top
High-performance near-infrared chlorinated rylenecarboximide fluorophores via consecutive C-N and C-C bond formation
Angew. Chem. Int. Ed. 2023, TBD, online.

top
[88] 10.1007/s13233-023-00191-0
Sustained release of doxorubicin through semi-interpenetrating polymer network-stabilized micelles
Macromol. Res. 2023, 31, 1105–1111.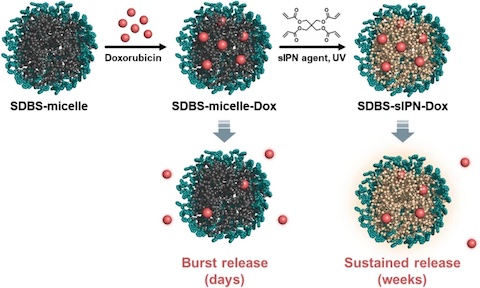 top
Assessment of near-infrared penetration depth and photothermal efficiency of organic and inorganic materials in tissue-mimicking phantoms
Polym.(Korea) 2023, 47(5), 678–685.

top
Artificial immunogenic cell death lipid nanoparticle functions as a therapeutic vaccine for cancer
Adv. Func. Mater. 2023, 33(31), 2302825.

top
[85] 10.1016/j.biomaterials.2023.122233
Immunosuppressive nanoparticles containing recombinant PD-L1 and methotrexate alleviate multi-organ inflammation
Biomaterials 2023, 301, 122233.

top
[84] 10.1016/j.ijbiomac.2023.123148
Pyropia yezoensis-derived porphyran attenuates acute and chronic colitis by suppressing dendritic cells
Int. J. Biol. Macromol. 2023, 231, 123148.

top
Suppression of lung cancer malignancy by micellized siRNA through cell cycle arrest
Adv. Healthc. Mater. 2023, 12(11), 2202358.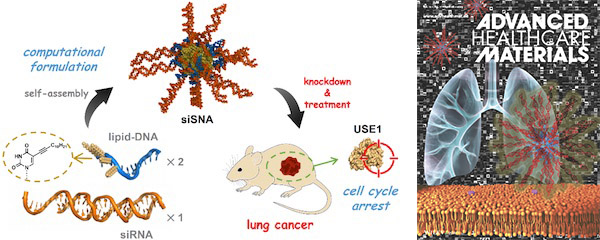 top
[82] 10.5012/jkcs.2023.67.1.68
Polymer nanoparticles containing sunscreen ingredients for UVA and UVB coverage
J. Kor. Chem. Soc. 2023, 67(1), 68–71.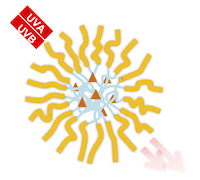 top
[81] 10.3390/ijms24021592
Structures and applications of nucleic acid-based micelles for cancer therapy
Int. J. Mol. Sci. 2023, 24(2), 1592.

top
[80] 10.1016/j.ijbiomac.2022.11.048
Polysaccharides from Astragalus membranaceus elicit T cell immunity by activation of human peripheral blood dendritic cells
Int. J. Biol. Macromol. 2022, 223, 370–377.

top
[79] 10.1016/j.bbcan.2022.188824
Targeting Cdc20 for cancer therapy
BBA-Rev. Cancer 2022, 1877(6), 188824.

top
[78] 10.1039/D2AY00554A
A carbon-black-embedded poly(dimethylsiloxane)-paper hybrid device for energy-efficient nucleic-acid amplification in point-of-care testing
Anal. Methods 2022, 14, 2569–2577.

top
[77] 10.1002/bkcs.12528
A convenient platform for real-time non-contact thermal measurement and processing
Bull. Kor. Chem. Soc. 2022, 43(6), 854–858.

top
[76] 10.1016/j.biomaterials.2022.121550
Recombinant programmed cell death protein 1 functions as an immune check point blockade and enhances anti-cancer immunity
Biomaterials 2022, 285, 121550.

top
[75] 10.3390/bioengineering9040170
Rylene dye-loaded polymeric nanoparticles for photothermal eradication of harmful dinoflagellates, Akashiwo sanguinea and Alexandrium pacificum
Bioengineering 2022, 9(4), 170.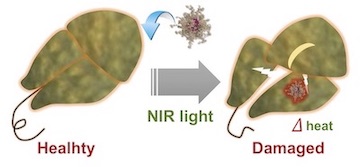 top
[74] 10.1016/j.semcancer.2022.02.016
Cancer immunotherapy by immune checkpoint blockade and its advanced application using bio-nanomaterials
Semin. Cancer Biol. 2022, 86(2), 909–922.

top
[73] 10.3390/ijms22179125
Enhancement of immune checkpoint inhibitor-mediated anti-cancer immunity by intranasal treatment of Ecklonia cava fucoidan against metastatic lung cancer
Int. J. Mol. Sci. 2021, 22(17), 9125.

top
[72] 10.1016/j.biomaterials.2021.121081
Carrier-free micellar CpG interacting with cell membrane for enhanced immunological treatment of HIV-1
Biomaterials 2021, 277, 121081.

top
[71] 10.1016/j.mattod.2021.04.010
Dynamic DNA-based biomaterials interacting with external, macroscopic, and molecular stimuli
Mater. Today 2021, 49, 378–390.

top
[70] 10.1016/j.ijbiomac.2021.06.045
Ecklonia cava fucoidan has potential to stimulate natural killer cells in vivo
Int. J. Biol. Macromol. 2021, 185, 111–121.

top
[69] 10.1016/j.ijbiomac.2021.05.073
Astragalus membranaceus polysaccharides potentiate the growth-inhibitory activity of immune checkpoint inhibitors against pulmonary metastatic melanoma in mice
Int. J. Biol. Macromol. 2021, 183, 1292–1300.

top
Ubiquitin-conjugating enzymes in cancer
Cells 2021, 10(6), 1383.

top
[67] 10.1002/bio.4008
Improvement of luminescence property of NaYF4:Yb3+/Er3+ upconversion material by cross‐relaxation mechanism according to co-doped Ho3+ ion concentrations
Luminescence 2021, 36(3), 812–818.

top
[66] 10.1016/j.ijbiomac.2021.01.155
Comparison of human peripheral blood dendritic cell activation by four fucoidans
Int. J. Biol. Macromol. 2021, 174, 477–484.

top
[65] 10.14226/KSIST.2020.26.04.6
Polymer nanoparticles encapsulating hydrophobically surface-modified CQD and spectroscopic analysis
J. Kor. Soc. Imaging Sci. Technol. 2020, 26(4), 133–140.

top
[64] 10.3390/nano10122498
Strategy for encapsulation of CdS quantum dots into zeolitic imidazole frameworks for photocatalytic activity
Nanomaterials 2020, 10(12), 2498.

top
Molecular-level understanding of excited states of N-annulated rylene dye for dye-sensitized solar cells
J. Phys. Chem. C 2020, 124(42), 22993–23003.

top
[62] 10.1039/D0TC02721A
Simultaneous and visual detection of cysteamine based on Michael addition reaction with polydiacetylene liposomes
J. Mater. Chem. C 2020, 8, 15290–15295.

top
[61] 10.1016/j.nano.2020.102260
Self-assembled DNA nanoparticles loaded with Travoprost for glaucoma-treatment
Nanomed.-Nanotechnol. 2020, 29, 102260.

top
[60] 10.1016/j.bbcan.2020.188377
Nucleic acid nanotechnology for cancer treatment
BBA-Rev. Cancer 2020, 1874(1), 188377.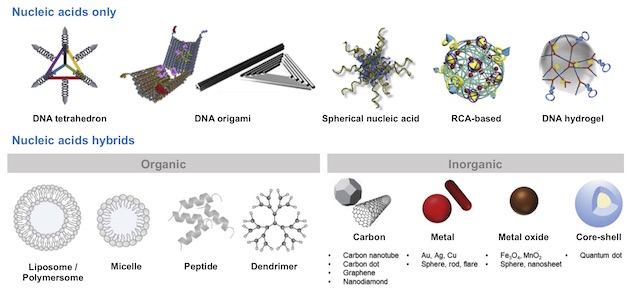 top
[59] 10.1038/s41467-020-15030-4
Escherichia coli adhesion portion FimH functions as an adjuvant for cancer immunotherapy
Nat. Commun. 2020, 11, 1187.

top
[58] 10.1016/j.jconrel.2019.09.013
Soft matter DNA nanoparticles hybridized with CpG motifs and peptide nucleic acids enable immunological treatment of cancer
J. Control. Release 2019, 315, 76–84.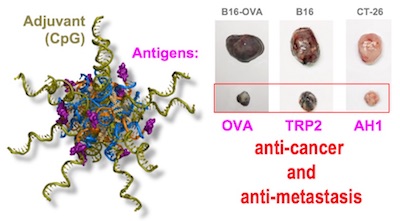 top
[57] 10.1080/15421406.2019.1651052
Near infrared dye-encapsulated polymeric nanoparticles with enhanced photostability under hyperthermal condition
Mol. Cryst. Liq. Cryst. 2019, 687(1), 53–59.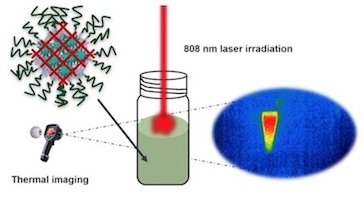 top
[56] 10.3390/ijms20215300
USP14 Inhibition regulates tumorigenesis by inducing autophagy in lung cancer in vitro
Int. J. Mol. Sci. 2019, 20(21), 5300.

top
[55] 10.1016/j.jiec.2019.08.001
Highly photostable rylene-encapsulated polymeric nanoparticles for fluorescent labeling in biological system
J. Ind. Eng. Chem. 2019, 80, 239–246.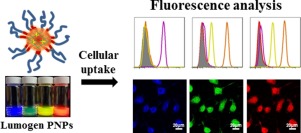 top
[54] 10.1186/s40425-019-0702-1
Indocyanine green and poly I:C containing thermo-responsive liposomes used in immune-photothermal therapy prevent cancer growth and metastasis
J. Immunother. Cancer 2019, 7, 220.

top
Protective effect of melatonin against polymicrobial sepsis is mediated by the anti-bacterial effect of neutrophils
Front. Immunol. 2019, 10, 1371.

top
Clinical applications of Gymnema sylvestre against type 2 diabetes mellitus and its associated abnormalities
Prog. Nutr. 2019, 21(2), 258–269.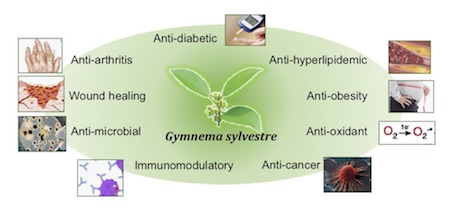 top
[51] 10.1007/s13233-019-7100-x
Phosphate-functionalized stabilized F127 nanoparticles: Introduction of discrete surface charges and electrophoretic determination of aggregation number
Macromol. Res. 2019, 27(7), 657–662.

top
[50] 10.1016/j.jiec.2019.01.007
Dye encapsulated polymeric nanoprobes for in vitro and in vivo fluorescence imaging in panchromatic range
J. Ind. Eng. Chem. 2019, 73, 87–94.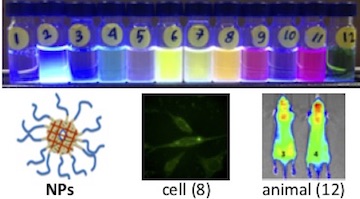 top
[49] 10.3390/md17010066
Activation of human dendritic cells by ascophyllan purified from Ascophyllum nodosum
Mar. Drugs 2019, 17 (1), 66.

top
[48] 10.3390/en11113083
Structural and electrochemical properties of dense yttria-doped barium zirconate prepared by solid-state reactive sintering
Energies 2018, 11(11), 3083.

top
[47] 10.1016/j.ijbiomac.2018.09.187
Rehmannia glutinosa polysaccharide functions as a mucosal adjuvant to induce dendritic cell activation in mediastinal lymph node
Int. J. Biol. Macromol. 2018, 120, 1618–1623.

top
[46] 10.1016/j.biomaterials.2018.08.036
Virus-mimetic polymer nanoparticles displaying hemagglutinin as an adjuvant-free influenza vaccine
Biomaterials 2018, 183, 234–242.

top
[45] 10.3791/57640
Immunostimulatory agent evaluation: Lymphoid tissue extraction and injection route-dependent dendritic cell activation
J. Vis. Exp. 2018, 139, e57640.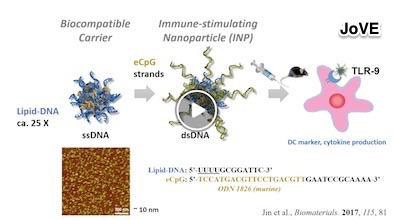 top
[44] 10.1016/j.ijleo.2018.07.129
Microwave-assisted sintering synthesis and luminescence characteristics of Sr3SiO5: Eu2+ phosphors for Eu2+ concentrations
Optik 2018, 172, 1205–1210.

top
[43] 10.1016/j.cplett.2018.08.003
High temperature synthesis of yellow-emitting Y2BaAl4SiO12:Ce3+ phosphors for WLED applications
Chem. Phys. Lett. 2018, 708, 66–70.

top
[42] 10.1016/j.jlumin.2018.04.012
Rapid visualization of latent fingerprints with Eu-doped La2Ti2O7
J. Lumin. 2018, 201, 275–283.

top
[41] 10.1002/bio.3511
Microwave‐assisted sintering synthesis of greenish‐yellow emitting Sr2SiO4:Eu2+ phosphors
Luminescence 2018, 33, 1081–1086.

top
[40] 10.3938/NPSM.68.25
Development and characterization of a functional foam block by using waste coffee powder
New Phys.: Sae Mulli 2018, 68, 25–31.

top
[39] 10.1016/j.ijbiomac.2018.04.144
Rehmannia glutinosa polysaccharide promoted activation of human dendritic cells
Int. J. Biol. Macromol. 2018, 116, 232–238.

top
[38] 10.1122/1.5009202
Rheological analysis of core-stabilized Pluronic F127 by semi-interpenetrating network (sIPN) in aqueous solution
J. Rheol. 2018, 62(1), 107–120.

top
[37] 10.1016/j.biomaterials.2017.11.046
DNA nanoparticles for ophthalmic drug delivery
Biomaterials 2018, 157, 98–106.

top
[36] 10.18632/oncotarget.23898
Fucoidan-coated CuS nanoparticles for chemo- and photothermal therapy against cancer
Oncotarget 2018, 9, 12649–12661.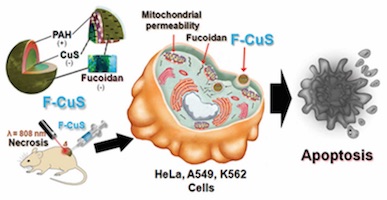 top
[35] 10.1016/j.materresbull.2017.06.037
Synthesis of TiO2 spheres and their utilization in the enhancement light-extraction efficiency of WLEDs
Mater. Res. Bull. 2017, 94, 456-462.

top
[34] 10.1080/15421406.2018.1452721
Blending Lumogen-encapsulated nanoparticles as white OLED materials
Mol. Cryst. Liq. Cryst. 2017, 659, 154–159.

top
[33] 10.1016/j.jallcom.2017.04.247
Deep red-emitting Ca14Al10Zn6O35:Mn4+ phosphors for WLED applications
J. Alloy. Compd. 2017, 714, 390-396.

top
[32] 10.1021/acsbiomaterials.7b00440
Administration of soft matter lipid-DNA nanoparticle as the immunostimulant via multiple routes of injection in vivo
ACS Biomater. Sci. Eng. 2017, 3(9), 2054–2058.
top
[31] 10.18632/oncotarget.22331
Lipopolysaccharide-coated CuS nanoparticles promoted anti-cancer and anti-metastatic effect by immuno-photothermal therapy
Oncotarget 2017, 8(62), 105584–105595.

top
Application of organic IR788-loaded semi-interpenetrating network dyes for photoacoustic imaging
Jpn. J. Appl. Phys. 2017, 56, 7S1.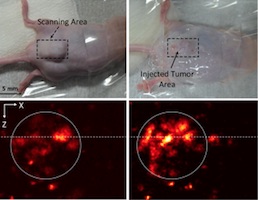 top
Ultrasensitive detection of oligonucleotides: single-walled carbon nanotube transistor assembled by DNA block copolymer
J. Nanosci. Nanotechnol. 2017, 17, 5175–5180.

top
[28] 10.1080/2162402X.2017.1325981
Rehmannia glutinosa polysaccharide induces toll-like receptor 4 dependent spleen dendritic cell maturation and anti-cancer immunity
OncoImmunology 2017, 6(7), e1325981.

top
[27] 10.1016/j.molimm.2017.02.017
Time-dependent effect of E. coli LPS in spleen DC activation in vivo: Alteration of numbers, expression of co-stimulatory molecules, production of pro-inflammatory cytokines, and presentation of antigens
Mol. Immunol. 2017, 85, 205–213.

top
[26] 10.1016/j.biomaterials.2016.11.020
Modular delivery of CpG-incorporated lipid-DNA nanoparticles for spleen DC activation
Biomaterials 2017, 115, 81–89.

top
[25] 10.1088/0957-4484/27/31/315301
Sub-100 nm gold nanohole-enhanced Raman scattering on flexible PDMS sheets
Nanotechnology 2016, 27(31), 315301.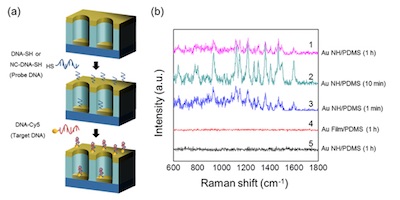 top
[24] 10.18632/oncotarget.10183
Maturation of dendritic cells by pullulan promotes anti-cancer effect
Oncotarget 2016, 7(28), 44644–44659.

top
[23] 10.1016/j.jallcom.2016.03.179
Crucial role of a nickel substrate in Co3O4 pseudocapacitor directly grown on nickel and its electrochemical properties
J. Alloy. Compd. 2016, 676, 407–413.

top
Ascophyllan functions as an adjuvant to promote anti-cancer effect by dendritic cell activation
Oncotarget 2016, 7 (15), 19284–19298.

top
[21] 10.1007/s12678-016-0306-1
Investigation of electrochemical properties of model Lanthanum Strontium cobalt ferrite-based cathodes for proton ceramic fuel cells
Electrocatalysis 2016, 7 (4), 280–286.

top
Dispersion and stabilization of quantum rod through semi-interpenetrating network formation
Polym.(Korea) 2016, 40 (1), 130–134.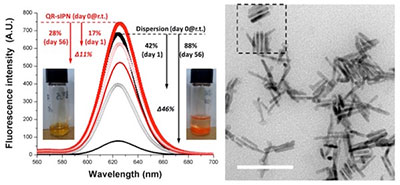 top
Sequence-specific nucleic acid mobility using a reversible block copolymer gel matrix and DNA amphiphiles (lipid-DNA) in capillary and microfluidic electrophoretic separations
Electrophoresis 2015, 36, 2451–2464.

top
[18] 10.1007/s00449-015-1358-y
Extracellular synthesis of gold bionanoparticles by Nocardiopsis sp. and evaluation of its antimicrobial, antioxidant and cytotoxic activities
Bioproc. Biosyst. Eng. 2015, 38 (6), 1167–1177.

top
[17] 10.1016/j.bbr.2014.12.019
Impairment of social behavior and communication in mice lacking the Uba6-dependent ubiquitin activation system
Behav. Brain Res. 2015, 281, 78–85.

top
[16] 10.1021/bc500289u
Functionalization of fatty acid vesicles through newly synthesized bolaamphiphile-DNA conjugates
Bioconjugate Chem. 2014, 25, 1678–1688.

top
[15] 10.1371/journal.pone.0104753
Inhibition of breast cancer resistance protein (ABCG2) in human myeloid dendritic cells induces potent tolerogenic functions during LPS stimulation
PloS One 2014, 9(8), e104753.

top
[14] 10.1016/j.colsurfb.2013.06.022
Properties of amphiphilic oligonucleotide films at the air/water interface and after film transfer
Colloid Surface B 2013, 111, 439–445.

top
[13] 10.1093/nar/gks1070
Purification of DNA-origami nanostructures by rate-zonal centrifugation
Nucleic Acids Res. 2013, 41 (2), e40.

top
Modular assembly of a Pd catalyst within a DNA scaffold for the amplified colorimetric and fluorimetric detection of nucleic acids
Angew. Chem. Int. Ed. 2012, 51, 11894–11898.

top
[11] 10.1021/ja206639d
Non-covalent monolayer-piercing anchoring of lipophilic nucleic acids: preparation, characterization, and sensing applications
J. Am. Chem. Soc. 2012, 134, 280–292.

top
[10] 10.1039/C1CS15138J
Nucleic acid amphiphiles: synthesis and self-assembled nanostructures
Chem. Soc. Rev. 2011, 40, 5745–5755.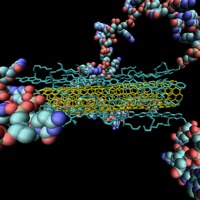 top
DNA block copolymer doing it all: from selection to self-assembly of semiconducting carbon nanotubes
Angew. Chem. Int. Ed. 2011, 50 (14), 3206–3210.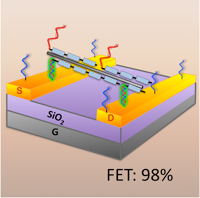 top
[8] 10.1016/j.carbon.2010.09.036
Effectiveness of sorting single-walled carbon nanotubes by diameter using polyfluorene derivatives
Carbon 2011, 49 (1), 333–338.

top
Synthesis of DNA block copolymers with extended nucleic acid segments by enzymatic ligation: cut and paste large hybrid architectures
Chem. Commun. 2011, 47 (8), 2243–2245.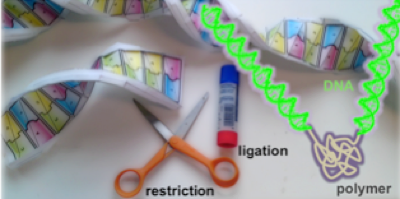 top
Virus-like particles templated by DNA micelles: a general method for loading virus nanocarriers
J. Am. Chem. Soc. 2010, 132 (23), 7834–7835.

top
Nucleic acid/organic polymer hybrid materials: synthesis, superstructures, and applications
Angew. Chem. Int. Ed. 2010, 49 (46), 8574–8587.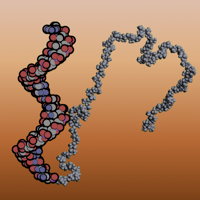 top
DNA-functionalised blend micelles: mix and fix polymeric hybrid nanostructures
Chem. Commun. 2010, 46 (27), 4935–4937.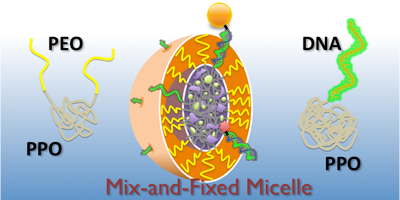 top
Tunable hydrophobicity in DNA micelles: design, synthesis, and characterization of a new family of DNA amphiphiles
Chem.-Eur. J. 2010, 16 (43), 12852–12859.

top
Polarizability of DNA block copolymer nanoparticles observed by electrostatic force microscopy
Macromol. Rapid Commun. 2010, 31 (14), 1242–1246.

top
Photoinduced charge separation of the covalently linked fullerene-triphenylamine-fullerene triad. Effect of dual fullerenes on lifetimes of charge-separated states
Bull. Chem. Soc. Jpn. 2007, 80 (12), 2465–2472.