top
Structural and electrochemical properties of dense yttria-doped barium zirconate prepared by solid-state reactive sintering
Energies 2018, 11(11), 3083.

top
[36] DOI:10.1016/j.ijbiomac.2018.09.187
Rehmannia glutinosa polysaccharide functions as a mucosal adjuvant to induce dendritic cell activation in mediastinal lymph node
Int. J. Biol. Macromol. 2018, 120, 1618–1623.

top
[35] DOI:10.1016/j.biomaterials.2018.08.036
Virus-mimetic polymer nanoparticles displaying hemagglutinin as an adjuvant-free influenza vaccine
Biomaterials 2018, 183, 234–242.

top
[34] DOI:10.3791/57640
Immunostimulatory agent evaluation: Lymphoid tissue extraction and injection route-dependent dendritic cell activation
J. Vis. Exp. 2018, 139, e57640.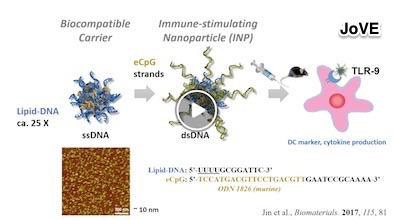 top
Development and characterization of a functional foam block by using waste coffee powder
New Phys.: Sae Mulli 2018, 68, 25–31.

top
[32] DOI:10.1016/j.ijbiomac.2018.04.144
Rehmannia glutinosa polysaccharide promoted activation of human dendritic cells
Int. J. Biol. Macromol. 2018, 116, 232–238.

top
Rheological analysis of core-stabilized Pluronic F127 by semi-interpenetrating network (sIPN) in aqueous solution
J. Rheol. 2018, 62, 107–120.

top
[30] DOI:10.1016/j.biomaterials.2017.11.046
DNA nanoparticles for ophthalmic drug delivery
Biomaterials 2018, 157, 98–106.

top
[29] DOI:10.18632/oncotarget.23898
Fucoidan-coated CuS nanoparticles for chemo- and photothermal therapy against cancer
Oncotarget 2018, 9, 12649–12661.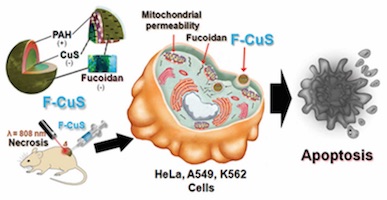 top
[28] DOI:10.1080/15421406.2018.1452721
Blending Lumogen-encapsulated nanoparticles as white OLED materials
Mol. Cryst. Liq. Cryst. 2017, 659, 154–159.

top
[27] DOI:10.1021/acsbiomaterials.7b00440
Administration of soft matter lipid-DNA nanoparticle as the immunostimulant via multiple routes of injection in vivo
ACS Biomater. Sci. Eng. 2017, 3(9), 2054–2058.
top
[26] DOI:10.18632/oncotarget.22331
Lipopolysaccharide-coated CuS nanoparticles promoted anti-cancer and anti-metastatic effect by immuno-photothermal therapy
Oncotarget 2017, 8, 105584–105595.

top
[25] DOI:10.7567/JJAP.56.07JF12
Application of organic IR788-loaded semi-interpenetrating network dyes for photoacoustic imaging
Jpn. J. Appl. Phys. 2017, 56, 7S1.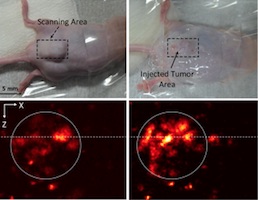 top
[24] DOI:10.1166/jnn.2017.13796
Ultrasensitive detection of oligonucleotides: single-walled carbon nanotube transistor assembled by DNA block copolymer
J. Nanosci. Nanotechnol. 2017, 17, 5175–5180.

top
[23] DOI:10.1080/2162402X.2017.1325981
Rehmannia glutinosa polysaccharide induces toll-like receptor 4 dependent spleen dendritic cell maturation and anti-cancer immunity
Oncoimmun. 2017, 6(7), e1325981.

top
[22] DOI:10.1016/j.molimm.2017.02.017
Time-dependent effect of E. coli LPS in spleen DC activation in vivo: Alteration of numbers, expression of co-stimulatory molecules, production of pro-inflammatory cytokines, and presentation of antigens
Mol. Immun. 2017, 85, 205–213.

top
[21] DOI:10.1016/j.biomaterials.2016.11.020
Modular delivery of CpG-incorporated lipid-DNA nanoparticles for spleen DC activation
Biomaterials 2017, 115, 81–89.

top
[20] DOI:10.1088/0957-4484/27/31/315301
Sub-100 nm gold nanohole-enhanced Raman scattering on flexible PDMS sheets
Nanotechnology 2016, 27(31), 315301.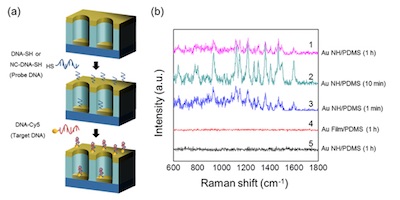 top
[19] DOI:10.1016/j.jallcom.2016.03.179
Crucial role of a nickel substrate in Co3O4 pseudocapacitor directly grown on nickel and its electrochemical properties
J. Alloys Compd. 2016, 676, 407–413.

top
[18] DOI:10.7317/pk.2016.40.1.130
Dispersion and stabilization of quantum rod through semi-interpenetrating network formation
Polymer(Korea) 2016, 40 (1), 130–134.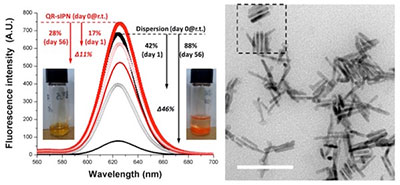 top
[17] DOI:10.1002/elps.201400489
Sequence-specific nucleic acid mobility using a reversible block copolymer gel matrix and DNA amphiphiles (lipid-DNA) in capillary and microfluidic electrophoretic separations
Electrophoresis 2015, 36, 2451–2464.

top
Functionalization of fatty acid vesicles through newly synthesized bolaamphiphile-DNA conjugates
Bioconjugate Chem. 2014, 25, 1678–1688.

top
[15] DOI:10.1371/journal.pone.0104753
Inhibition of breast cancer resistance protein (ABCG2) in human myeloid dendritic cells induces potent tolerogenic functions during LPS stimulation
PloS One 2014, 9(8), e104753.

top
[14] DOI:10.1016/j.colsurfb.2013.06.022
Properties of amphiphilic oligonucleotide films at the air/water interface and after film transfer
Colloids Surf. B 2013, 111, 439–445.

top
Purification of DNA-origami nanostructures by rate-zonal centrifugation
Nucleic Acids Res. 2013, 41 (2), e40.

top
[12] DOI:10.1002/anie.201206006
Modular assembly of a Pd catalyst within a DNA scaffold for the amplified colorimetric and fluorimetric detection of nucleic acids
Angew. Chem. Int. Ed. 2012, 51, 11894–11898.

top
Non-covalent monolayer-piercing anchoring of lipophilic nucleic acids: preparation, characterization, and sensing applications
J. Am. Chem. Soc. 2012, 134, 280–292.

top
Nucleic acid amphiphiles: synthesis and self-assembled nanostructures
Chem. Soc. Rev. 2011, 40, 5745–5755.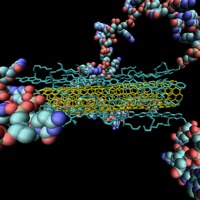 top
[9] DOI:10.1002/anie.201007098
DNA block copolymer doing it all: from selection to self-assembly of semiconducting carbon nanotubes
Angew. Chem. Int. Ed. 2011, 50 (14), 3206–3210.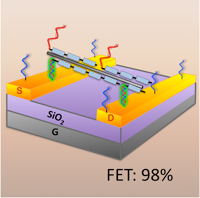 top
[8] DOI:10.1016/j.carbon.2010.09.036
Effectiveness of sorting single-walled carbon nanotubes by diameter using polyfluorene derivatives
Carbon 2011, 49 (1), 333–338.

top
Synthesis of DNA block copolymers with extended nucleic acid segments by enzymatic ligation: cut and paste large hybrid architectures
Chem. Commun. 2011, 47 (8), 2243–2245.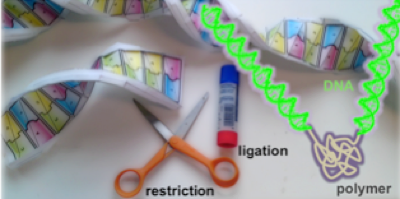 top
Virus-like particles templated by DNA micelles: a general method for loading virus nanocarriers
J. Am. Chem. Soc. 2010, 132 (23), 7834–7835.

top
[5] DOI:10.1002/anie.200906820
Nucleic acid/organic polymer hybrid materials: synthesis, superstructures, and applications
Angew. Chem. Int. Ed. 2010, 49 (46), 8574–8587.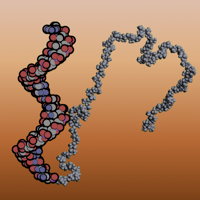 top
DNA-functionalised blend micelles: mix and fix polymeric hybrid nanostructures
Chem. Commun. 2010, 46 (27), 4935–4937.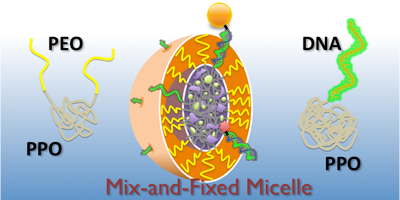 top
[3] DOI:10.1002/chem.201001816
Tunable hydrophobicity in DNA micelles: design, synthesis, and characterization of a new family of DNA amphiphiles
Chem.-Eur. J. 2010, 16 (43), 12852–12859.

top
[2] DOI:10.1002/marc.200900904
Polarizability of DNA block copolymer nanoparticles observed by electrostatic force microscopy
Macromol. Rapid Commun. 2010, 31 (14), 1242–1246.

top
Photoinduced charge separation of the covalently linked fullerene-triphenylamine-fullerene triad. Effect of dual fullerenes on lifetimes of charge-separated states
Bull. Chem. Soc. Jpn. 2007, 80 (12), 2465–2472.